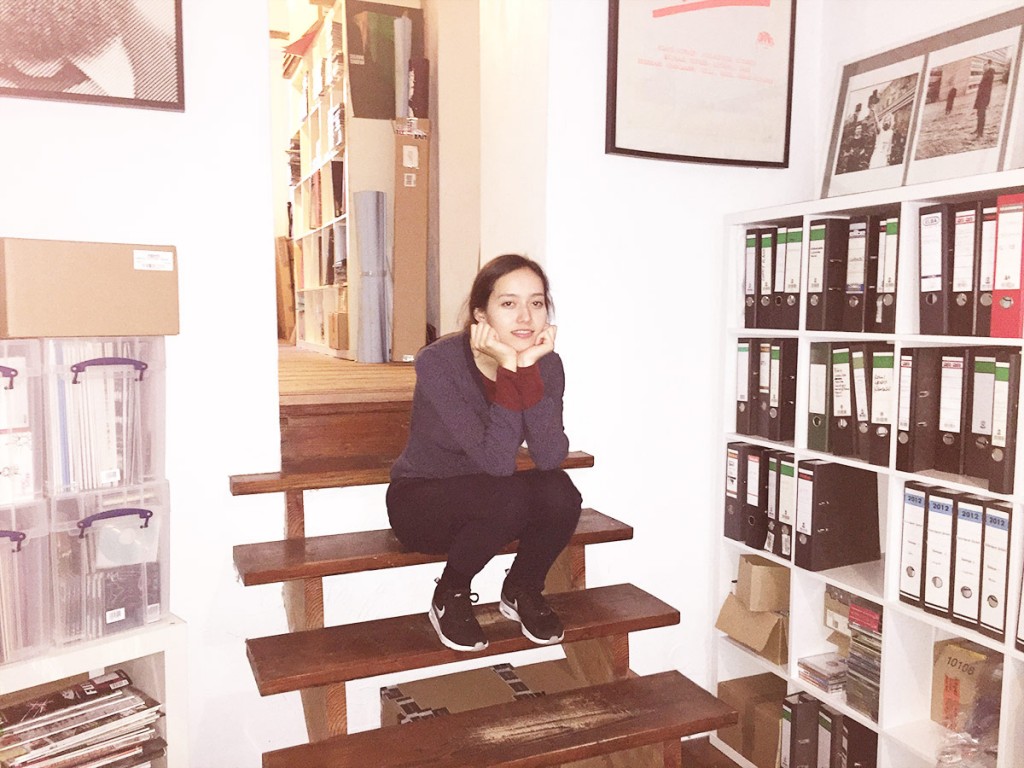 Interview: Fazerdaze
Wie aus dem Nix trat Amelia Murray aka FAZERDAZE in unser Leben. Mit ihrem Longboard kam sie ganz leise die frisch geteerte Straße runtergerollt. Sie kommt aus Neuseeland, hat schon diverse Songs veröffentlicht und wird am 5. Mai ihre erste große LP herausbringen. Dafür macht die junge sympathische Songwriterin, mit dem Faible zu 60er Pop und DIY-90er Shoegaze, gerade Promo-Tour quer durch Europa. Heute Berlin, morgen Paris, dann München usw. Wir haben sie in Berlin im Grönland Office getroffen und ihr einige Fragen zu ihrer Kindheit, ihrer Musik und ihrer Zukunft gestellt:
We love that Sound: So glad to meet you and so happy you made it all over from New Zealand, how was your trip?
Fazerdaze:The flight was actually okay but they lost my luggage. I was waiting on the luggage carousel like looking all those bags go by and everyone was leaving and my bags didn't show up. I'm gonna buy some clothes tonight. It's pretty cold so I have to buy a really nice coat.
W: Is it the first time you visit Berlin?
F: Yes.
W: And what's your first impression and be honest.
F: I was wondering but It's quite, really quite. I'm walking round the streets and it's very quite.
W: You grew up in New Zealand, I never was in New Zealand, so how it is to grow up there? Is it like in the Video 'Little Uneasy', driving long board in the lonely streets between palms?
F: Yeah, it's quite like that. You have to do your own entertainment. Childhood was pretty much roaming around, try to find things to do. Very safe cause it's a safe country, no dangerous animals.
W: What's the main difference between New Zealand and Germany?
F: I haven't been long enough here to know that. But I think Germany has a lot of history. The architecture here is older, the buildings in New Zealand are more modern and quite similar.
W: Why do you call yourself Fazerdaze and not Amelia Murray?
F: I like having a separation between myself and my music. With Fazerdaze I can make mistakes, can explore and try things. And if I don't like it one day then I can make something else but with my own name. But my name is something personal, it's the same name that stands on my bank statement, you know? It's nice to have that space to be creative.
W: Is there a story behind that name?
F: No, I was messing around with names and that's what I came up with. Then I showed it to my flatmate and she liked it. That's it.
W: We listened your new LP and we loved it from the beginning. Is that right, that you played the bass, the guitar? In the end you did everything on the record?
F: I do, yeah, mostly I recorded in my bedroom on my laptop.
W: So what's next? Do you want to learn the drums too?
F: Yeah, I do wanna get some lessons to understand how the drums work, to know the different parts how they sound. Then one day I would like to be good at it, so I can record myself playing them.
W: When do you play some shows here in Germany?
F: I think we play some small shows in may. But we're playing a festival it's called Im Im …?
W: Immergut Festival?
F: Exactly, how do you say in german?
W: Like, It's always good!
F: Cool, awesome, we're looking forward for that.
W: Our favorite songs are 'Friends', 'Little Uneasy' and 'Misread', how do you write such songs?
F: Oh, I'm still figuring it out, it's different every time. I play the guitar and sing and I'm always not thinking too much. Well I'm pretty sure I could teach you how to do it. But sometimes I wrote the guitar piece and then I listened back to it with the microphone and then I sing on top. I always make mistakes. Then I select the different parts saying: "That's quite good!" It's hard to explain.
W: When you write songs, do you imagine how the audience would react on a song?
F: Oh no, that is really hard. And that's why I write songs in my bedroom, there's no room for anyone elses opinion. There I can do whatever want. I try my best not to think about what other people would think otherwise I would do some music that is more safe or something.
W: What or who is your inspiration?
F: That's a hard question. I do have a lot of friends in New Zealand that make music. Probably I would say my friends. Everyone around is making music, that is probably my biggest inspiration: The people around me.
W: Congratulations, you signed to Groenland Records, have you met the owner yet?
F: No, I haven't met him, I think he's living in London at the moment. But I've heard about him of course.
W: Do you know your label colleagues like BOY, Gloria or NEU!?
F: I know NEU! Their music is pretty legendary, in New Zealand we're huge fans. And BOY, I listened to them when I signed, they're pretty cool.
W: What was your favorite moment as an artist so far?
F: There were a few shows where I just felt really connected to the audience like I felt really relaxed. The live shows are my favorite moments.
W: What's the plan for the future?
F: I'm working on my next thing at the moment. Always trying to get better and write new music. I'm touring this album, playing shows around, that's the immediate plan. After that I can't wait to get home and makes some more music.
W: And is there something in the world you want so bad with your music?
F: For me, I just wanna doing it for a long time. I wanna do albums my whole life, that's my goal, really. I don't necessarily want huge success or fame.
W: Not a crowd of 60.000 singing your song out loud?
F: No, no I mean, I don't necessarily want huge quantities, I think quality is a lot more important to me. I'd rather have ten people really connect to it then have 60.000 people that will afterwards disappear and never come back, you know. I feel like quality is much more what I'm up to and quality fans rather than one-hit-wonder fans.